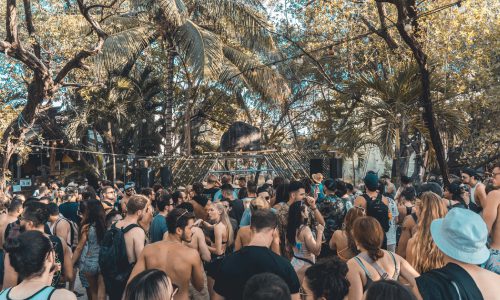 JOIN OUR VOLUNTEER PROGRAM
Being a volunteer for the Beach Cleaning Program will help with the preservation of the ecosystem and save marine lives. Last January at Ocaso's cleanups, we had 75 volunteers, recover 82 kilos of non valuable waste and 12 kilos of recyclables. All this was organized by a local nonprofit organization: The Clean Wave. Be sure to help us this year with all the cleaning. You will engage with local people and spread knowledge about the environment, among other activities.
7 Years Gathering Joy, Artists & Friends
GUANACASTE IS IN OUR HEARTS
Ocaso is not only entertainment but progress to the Province.

Each year, we provide more than 100 direct job positions and over 300 indirect job positions.

The cleanup beach volunteer program picks an average of 10Kg of waste. Over 50 kids are benefited by our donations to local elementary schools.
ON THE BEACH AND IN THE SEA, ANIMALS DO NOT LEAVE TRASH: HUMANS DO.

PLEASE BEHAVE LIKE ANIMALS